Free management consulting — only on today's Office Hours!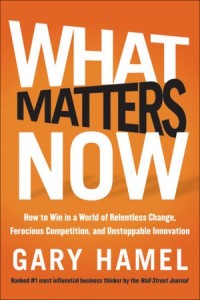 If you have any interest in picking the brain of one of the top management thinkers of our times — and thereby cadge thousands of bucks in free consulting — tune in to Office Hours today at 2pm, EST.
Our guest will be Gary Hamel. He's the originator (with CK Prahalad) of the idea of core competencies, a visiting professor at the London Business School, the most reprinted writer in the history of the Harvard Business Review, founder of the Management Innovation eXchange, and pioneer in the quest for "moonshots for management." He's also the author of What Matters Now, a terrific book that came out last week. (Buy it on IndieBound, BN.com, or Amazon.)
To listen in and ask Gary a question, just call (703) 344-2171 at the appointed hour and used this passcode: 203373.
The program is free of charge and free of advertising. For more information — including previous guests, audio downloads, and listening to it on iTunes — just visit the Office Hours page.
---