Entrepreneurs are Iron Chefs, Managers are Swedish Chefs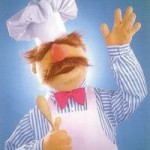 In this February Inc. Magazine article, which I finally got to this weekend, The University of Virginia's Saras Sarasvathy talks about research she's done into the thinking styles of accomplished entrepreneurs.
The whole piece is worth reading, but I was especially intrigued by her flavorful distinction between entrepreneurial thinking and managerial thinking:
"Sarasvathy likes to compare expert entrepreneurs to Iron Chefs: at their best when presented with an assortment of motley ingredients and challenged to whip up whatever dish expediency and imagination suggest. Corporate leaders, by contrast, decide they are going to make Swedish meatballs. They then proceed to shop, measure, mix, and cook Swedish meatballs in the most efficient, cost-effective manner possible."
Are you an Iron Chef or a Swedish Chef? Or is this difference just a misleading stew?
---