Does the "school cliff" matter more than the fiscal cliff?
For all the yammering about the fiscal cliff, another cliff might present a more perilous danger — what the folks at Gallup call the "school cliff."
Never heard of that one?
Take a look at chart below — and you'll grok it immediately.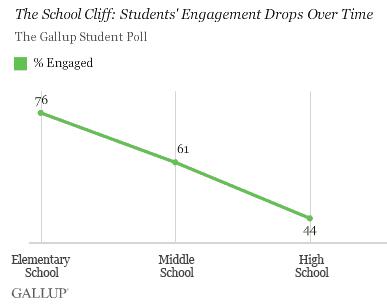 As this Gallup blog post explains: "[Our] research strongly suggests that the longer students stay in school, the less engaged they become." Primary school kids begin their educations deeply engaged — but by the time they get to high school, more than half are checked out. And the problem is even worse for our most entrepreneurial students.
Brandon Busteed, Executive Director of Gallup Education, points to several factors for the decline. An "overzealous focus on standardized testing." Not enough project-based or experiential learning. Too few pathways for students who won't, or don't want to, attend college.
But whatever the reasons, he says, "The drop in student engagement for each year students are in school is our monumental, collective national failure."
* * * * *
IN OTHER NEWS  . . . 
The To Sell Is Human Book Tour begins this week.  Here are 3 events you might enjoy:
Washington DC: Politics and Prose, Tuesday January 8 at 7pm
Seattle: Town Hall Seattle, Wednesday January 9 at 730pm
Portland: Powell's Books, Friday January 11 at 730pm
---