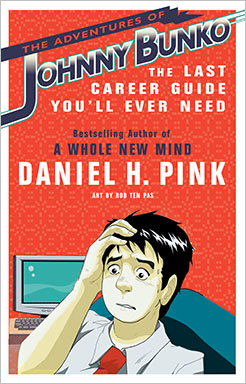 * A BusinessWeek Bestseller!
* Read it in Portuguese, German, Japanese, Italian, Dutch, Korean, French (France), French (Canada), Thai, Polish, and Spanish. (For foreign rights inquiries, contact Bridget Wagner)
* An American Library Association Best Graphic Novel for Teens!
* Discussion Guides: For business | For students
Meet Johnny Bunko. He's probably a lot like you. He did what everybody – parents, teachers, counselors — told him to do. But now, stuck at a dead-end job, he's begun to suspect that what he thought he knew is just plain wrong. One bizarre night, Johnny meets Diana, the unlikeliest career advisor he's ever seen. Part Cameron Diaz, part Barbara Eden, she reveals to Johnny the six essential lessons for thriving in the world of work
The Adventures of Johnny Bunko is America's first business book in the Japanese comic format known as manga – and the last career guide you'll ever need.