The Disunited States of America
Today's Wall Street Journal has a terrific story about Igor Panarin, a respected Russian scholar and policy guru who's peddling an audacious prediction:
The United States of America will be no more by 2010.
And it won't be Russian missile doing us in. We'll rot from the inside, says Panarin. (Kinda like the Soviet Union? — Ed.) As the Journal sums up:
"[M]ass immigration, economic decline, and moral degradation will trigger a civil war next fall and the collapse of the dollar. Around the end of June 2010, or early July, he says, the U.S. will break into six pieces — with Alaska reverting to Russian control."
What will the Not-So-United States look like? Check out the map below — and get ready to change your drivers license to The Texas Republic, which will be part of Mexico.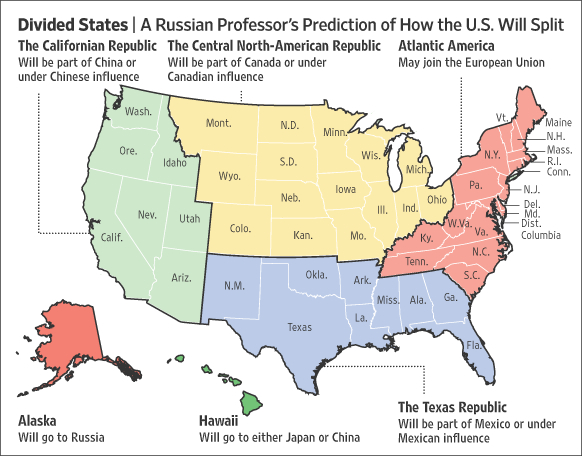 ---