Sabbaticals by Sagmeister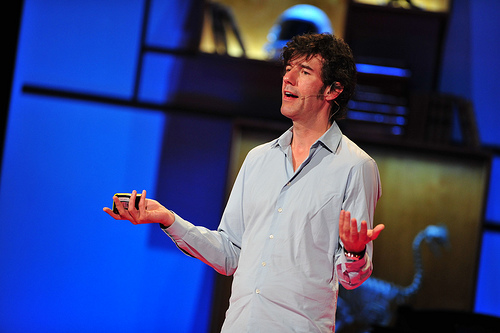 Just back from TED Global, which was one of the few conferences I've attended that actually lived up to its billing. Even for a jaded dude like me, it was quite remarkable. Nearly all the talks were excellent. And Bunko winner Becky Blanton absolutely, totally, positively rocked the house in her 6 minutes of brilliance at TED University.
One of the talks that really stuck with me came from the amazing designer Stefan Sagmeister. He described a typical life timeline: The first 25 or so years are devoted to learning, the next 40 or so to working, and the final 25 to retirement.
Then he asked: Why not cut off 5 years from retirement and intersperse them into your working years?
So every seven years, Sagmeister closes his design shop, tells his clients he won't be back for a year, and then goes off on a 365-day sabbatical.It sounds costly, I know. But he says the ideas he comes up with during the year "off" are often what provide the income for next seven years.
Cool. If I can swing it, I'd like to give it a try. But I'm going to change the name from "going on sabbatical" to "taking a Sagmeister."
---