Free, exclusive New Year's Day teleseminar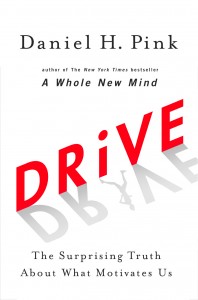 To celebrate the arrival of 2010 and to thank the astonishing number of you who are
pre-ordering
Drive
(the number of early orders already beats the
monthly
sales of
AWNM
's debut!), I am offering a free, exclusive New Year's Day teleseminar.
To participate, simply email the receipt for your Drive order to [email protected]. You'll be registered for a free, one-hour teleseminar on January 1, 2010 at 2pm, EST. (Note: It doesn't matter whether you ordered the book a month ago–or whether you're ordering it in response to this post. Your receipt is the your admission ticket.)
In this 2010 preview session, I'll be discussing topics that I haven't talked about or written about anywhere else. In particular, I'll offer:
The 10 publications (e-newsletters, blogs, magazines, and forthcoming books) that everyone should be reading in 2010.
The 5 emerging social and business mega-trends that I'll be following in 2010.
3 motivation exercises that you won't find in the pages of Drive.
Answers to the 6 most insightful, surprising questions that readers submit.
Some other details:
The seminar is limited to 500 people. First come, first serve. Sorry.
We'll send you the call-in details after Christmas. (If you're outside the U.S., keep in mind that we'll be using a U.S. phone number.)
I will not be recording, distributing it, or blogging about this session. It lives for an hour — then disappears.
If you've already ordered Drive, many thanks. Just send your receipt to register this New Year's extravaganza. If you haven't ordered yet, place your order with your favorite bookseller. But get going. I expect the seminar to fill within 72 hours.
---