Emotionally intelligent signage . . . in an airport?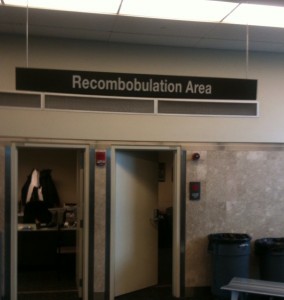 Herking and jerking through airport security these days is nobody's idea of fun. Jackets end up in tangled balls. Shoes and belts enter the X-ray, then don't reappear. Gray bins collide, knocking laptops to the floor. The whole experience can be discombobulating.
Enter the good people at Milwaukee's General Mitchell International Airport. As I discovered last week, workers there have given the post-security line patch of tattered carpet and stiff benches, where passengers can lace up their shoes and dust off their MacBooks, a new name. It's not much. But it's not bad. Not bad at all.
---