Are you indispensable?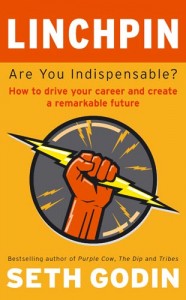 Seth Godin's new book, Linchpin, launches today. And like all of Seth's work, this one will rattle your neurons and rouse your heart.
As part of his effort to spark conversations, he's interviewed several other authors about their work — and how their ideas relate to his. Below is the interview Seth did with me on the connections between Linchpin and Drive.
GODIN: Your book Drive really got me excited. First, it's a great book. Second, it brings up a complementary point I totally missed! The essence of the lesson, as I hear it, is that art, initiative and creativity aren't things we do to get a reward. They are intrinsic rewards in and of themselves. Do I have that right?
PINK: Amen, Seth. Too many people harbor the misguided belief that humans are motivated solely by biological urges and by carrots-and-sticks. Those two drives matter, of course. But we've neglected that humans also have a *third* drive — to direct our own lives, to get better at stuff, to make a contribution. Here's an example. This weekend somebody's going to be practicing the clarinet — even though it won't get him a mate (the first drive) or make him any money (the second drive.) Why is he doing that? Because it's fun, it's interesting, it's meaningful. Because the act is its own reward.
GODIN: As you put it on the first page of Drive, this is a mind-blowing revelation that has been almost completely overlooked by our command-and-control factory system. In the world we grew up with, if there isn't an extrinsic motivator (a prize, a payment or at the very least, a pat on the head) then why bother? What do you think Ayn Rand would say?
PINK: First, don't forget that Ayn Rand herself was a novelist and screenwriter — a creator. Beyond that, I think she'd be aghast at my saying the market isn't perfect all the time. But I think she'd see that her iconic characters — for instance, Howard Roark — were motivated by internal desires like autonomy, mastery, and purpose.
GODIN: Does this explain why people with an irresistible need to create tend to gravitate to fields where they're almost certain to not get paid? (Stuff like poets, painters and playwrights come to mind).
PINK: I doubt it. What I think is going on is that until recently, the business world didn't much prize people with these kinds of skills. So if you wanted to do those things, you weren't going to get paid much. Today, these right-brain types are much more in demand. That said, there are maybe fourteen people on the planet who are going to make a living as poets. But, again, there are maybe a million who can use their talents as poets in work as teachers, copywriters, bloggers, journalists, and other professions and business centered on creation.
GODIN: Do you agree with me that every successful organization needs people like this today? Problem solvers, self-drivers, artists?
PINK: Of course. Not even a close call.
GODIN: How then do we merge the two motivations? How do we get people to bring their artist to work?
PINK: Stop treating people like horses and start treating them like human beings. Instead of trying to bribe folks with sweeter carrots or threaten them with sharpen sticks, how about giving them greater freedom at work, allowing them to get better at something they love, and infusing the workplace with a sense of purpose? If we tap that third drive more fully, we can rejuvenate our businesses and remake our world.
---