Emotionally intelligent drainage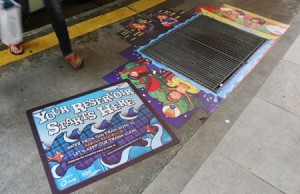 From Singapore comes something new: Emotionally intelligent drain covers.
To discourage people from littering and to beautify shared space, the Asian city-state is turning its drain covers into small works of art. "On average 14 tonnes of rubbish enter Singapore's reservoirs daily," reports ChannelNewsAsia.com. Much of it comes from stray bits that people think are harmless but that can actually make their way through the drain into the waterways.
"Through this project, we hope they will think twice before discarding that piece of tissue," one official told AsiaOne News.
It's public art with a purpose — and a rather tender form of behavior-shaping from a place better known for more draconian measures.
---