Can a 5-minute exercise double your productivity?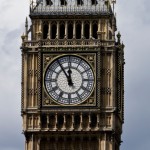 Yeah, I know. It sounds like a spammy Internet come-on – a proposition too good to be true.  But in this month's Sunday Telegraph column, I look at the work of University of Pennsylvania management scholar Adam Grant – and his research on using purpose and significance as performance-enhancing drugs.
His finding: Reminding people why they're doing what they're doing – even in surprisingly modest ways — can have a big impact.
You can read the full column here.
---