14 smart tips from single women entrepreneurs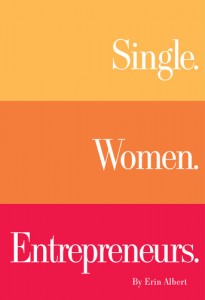 Erin Albert is a multi-talented, multi-tasking pharmacy professor at Butler University (Go Bulldogs! Beat Wisconsin!) who runs a couple of businesses and is pursuing a law degree on the side. Since she obviously has lots of time on her hands, she's also just written a book.
It's called Single.Women.Entrepreneurs. And it's about – wait for it – single women entrepreneurs.  Turns out there are legions of them – though they get far less press than, say, mompreneurs or women who mitigate their entrepreneurial risk by being married to a wage-earning spouse.
The women Erin profiles in her book (Buy it at Amazon, BN, or Indie Bound) have launched some really interesting business – and operate them in smart and savvy ways. So I asked Erin if a few of her subjects would offer advice to Pink Blog readers who are themselves single women entrepreneurs or who are hoping to be. (At least the entrepreneur part. If you're hoping to become single or a woman, there are plenty of other blogs for that.)
Kristin Kuhlke Cobb, founder and owner of South Carolina-based Cupcake (which sold $1.3 million worth of baked goods last year):
1. Do your homework, be a sponge.
2. Balance knowledge of facts with gut feeling.
3. Work around the crazy.
4. Don't go in to debt.
5. Don't be afraid to make mistakes.
Dava Guthmiller, owner/creative director of Noise 13 Design in San Francisco and founder of Pow.wow, a networking organization for business women:
1. Ask for help earlier.
2. Write a business plan.
3. Fire clients if they aren't the right fit.
Niquelle Allen, an Indianapolis-based attorney and mediator who owns Butterfly Consignment and Mediation Works, LLC:
1. Pray
2. Dream big.
3. Pray
4. Plan purposefully.
5. Pray
6. Take action.
Contribute your own advice in the Comments section.
---