What your business can learn from a 6th grade classroom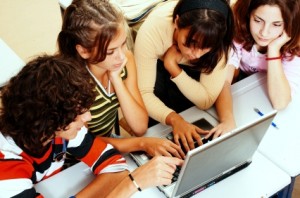 Josh Stumpenhorst, a teacher in the suburbs of Chicago, wrote to share his experience trying implement a FedEx Day, one of the stickiest ideas in the Motivation 3.0 repertoire, in his 6th grade classroom. He dubbed it Innovation Day 2011 and has a great description at his blog, Stump the Teacher. But I wanted to highlight some of his ideas that I thought were exceptional.
Josh's goal was to guide 250 students as they tackled self-selected learning projects — everything from building a model of the Leaning Tower of Pisa, to writing and performing a comedy act, to creating a documentary video of Innovation Day itself. What could have been full-bore chaos turned into a fantastic day of learning and sharing. In his blog, Josh reveals some of the secrets of the day's success:
Teachers, administrators, and students treated each other with mutual respect. The kids knew Josh would support them, and Josh knew the school administrators would support him in turn. According to Josh, "One of the hallmarks of the school I work in and the principal that leads us is innovation."
As a teacher, Josh was flexible, in touch, and resourceful. He kept an eye on his students' progress, knowing "when to step in and when to step back." And rather than pose as the expert, he used all the resources at his disposal to give the students "access to as many learning opportunities as possible."
Josh recognized the importance of asking his students to do worthwhile work. "You don't want students to waste your time turning in sub-par quality work, so don't waste their time and ask them to do sub-par quality activities."
So how did the project turn out? Josh reports that his students tackled their tasks with "an abundance of enthusiasm." They completed more than 20 projects. Discipline problems were nonexistent.  Students helped each other out. Administrators and Josh's fellow teachers dropped by the classroom and were caught up in the excitement. But perhaps this exchange between Josh and one of the sixth-graders best illustrates the power of Innovation Day:
As the students were walking out at the end of the day one student stopped me and asked, "Can we do this again tomorrow"?
I responded with, "Well, I would love to, but tomorrow is Saturday," in a half-joking manner.
This student looked me dead in the eyes and replied, "I would come back tomorrow to do this again."
---