How do you sign an e-book?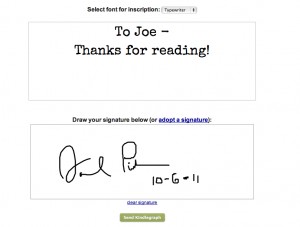 That's a question that writers, and others with plenty of time on their hands, have been pondering since the intelligentsia realized that electronic books are a force rather than a fad.
It's easy to ink a signature across the title page of a paper book. It's cool, too. (As it happens, I collect autographed books inscribed to the three PinkBlog children.)
But what happens when the book you own consists of atoms behind a screen instead of bits in your hand?
Evan Jacobs has an answer. He calls it Kindlegraph.
You sign in — for free — with your Twitter account. You look up your favorite book or author. Then you click a button that says "Request Kindlegraph." That sends a note to the author, who then uses her finger and her computer trackpad to "sign" your ebook and zap it to your Kindle. See above for an e-book that I signed a few days ago.
It's not a perfect solution, of course. But it does represent a nice first step to connect readers and writers in the digital age. So if you're an ebook devotee, give it a try. I'm getting much better at signing with my index finger. (The Nook Color apparently has an autographing function, too. If you're a Nook user, email and tell me how it works.)
Also — and this is important — if you prefer the kind of books with paper, fear not.  If you'd like a signed Drive bookplate, just complete this super-short form and we'll snail mail you one for free.  It won't arrive instantly and magically. But it will bear a trace of the unbeatable smell of a Sharpie.
---