50 centuries of work = 5 important lessons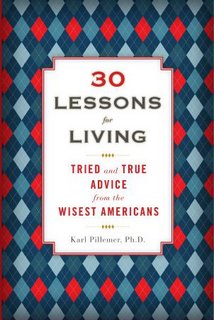 Cornell professor Karl Pillemer admits he's an advice junkie.  Yet even amid the groaning self-help shelves at his local bookstore, he felt something was missing.
As he asks in 30 Lessons for Living: Tried and True Advice from the Wisest Americans (Amazon, BN.com, IndieBound), "Why, if we have so many professional advice givers, are so many people still so unhappy? The overflowing feast of advice seems to have left a lot of people pushing back from the table hungry."
He began looking for "advice that is based in lived reality, has stood the test of time, and offers a chance of genuinely helping us make the most of our lives," and found it right under his nose, in the collective wisdom of the very people he had been studying his entire career — senior citizens.
For five years, Pillemer surveyed and interviewed the savviest seniors he could find – over a thousand of them  — and from this material distilled thirty pithy lessons. I highlighted 30 Lessons for Living in a recent newsletter as one of the best books I've read so far this year.
The book includes a chapter of career advice based on the wisdom gleaned from his subjects' 50,000 years of work experience. (Try fitting that on a resume!) Here's what Pillemer calls the "refrigerator list" of the five lessons gleaned from all that experience:
1. Choose a career for the intrinsic rewards, not the financial ones.

2. Don't give up on looking for a job that makes you happy.

3. Make the most of a bad job.

4. Emotional intelligence trumps every other kind.

5. Everyone needs autonomy.
What intrigues me about this list is that it accords so well with what science tells us about motivation and happiness. But then, your grandparents could have told you that.
---