Can you launch a startup with just 100 bucks?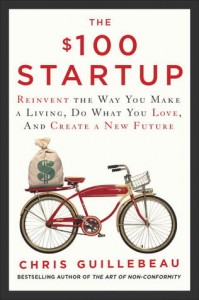 Later this month, Facebook is planning a ninety billion dollar IPO. Let's write out that number so we glimpse its enormity: $90,000,000,000. Whoa.
Chris Guilliebeau thinks Facebook is cool. But he urges the rest of us to concentrate on a smaller number: a hundred bucks. Let's write out that one, too. $100. See? It's a lot more manageable.
In his new book, The $100 Startup: Reinvent the Way You Make a Living, Do What You Love, and Create a New Future, (Buy it on Amazon
, BN.com, or IndieBound), Guillebeau examines a slew of people who've started enterprises with extremely modest investments — and managed to build both a business and life.
With the book launching today, Chris agreed to answer some questions for Pink Blog readers about risk, reward, and revolution.
***
1. In the book, you talk about the freedom of leaving a soul-sucking job to begin an entrepreneurial adventure. It sounds wonderful, but in rough economy, why would someone with a steady job want to take a chance on self-employment?

In a time of uncertainty, many of us are thinking about security and redefining risk. I don't believe that pursuing self-employment is "taking a chance," at least not compared to taking a chance in a highly competitive, difficult job market that offers few opportunities for independence. Many of the people I talked with for the book found that their own competence was their best security.
Furthermore, lots of big businesses—Microsoft, GE, and HP to name a few—were all started during recessions. So in my mind, while there are certainly some bad things about an economic downturn, there is also a great deal of opportunity.
2. What is one thing Pink Blog readers could do today to take that first step on the road to freedom?
I bet that the astute Pink Blog readership has a lot of ideas for a business. Some of them are probably great ideas, but one thing I've learned is that most "business ideas" are actually too general. So the one thing these astute readers can do is convert that general idea into a specific offer. What will you actually offer the world, and how will you get paid for it?
Starting a business isn't that complicated. You don't need an MBA or a 60-page business plan that no one will ever read. You do, however, need a few things:
a) A product or service
b) A group of people willing to buy it
c) A means of getting paid
When thinking about business ideas, always think in this framework: what it is, who it's for, and how you'll get paid?
3.  Anything they should not do?
Yes. Don't feel like you have to have everything in place before starting. I often hear from people in cubicle-land who want to "quit their jobs" but have concerns about income and providing for others. These are valid concerns!
So if that's your situation, don't quit. But don't wait in paralysis either. The sooner you can create a side project that will bring in some extra cash, the better. A little extra cash from an all-new source can be highly empowering. It creates the potential that, one day, you may indeed be able to walk away from that soul-sucking job.
---