The Storytelling Animal: 4 questions for Jonathan Gottschall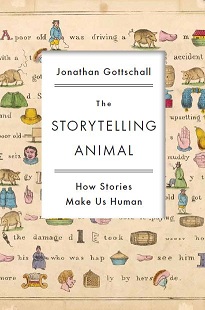 Have you heard the one about . . . ?
Chances are, by the time you've reached this blog post, you've already heard dozens of stories in your day. Before you go to sleep, you'll encounter dozens more. And you might desire some of these stories so deeply that you'll pay for them.
As a species, we're addicted to stories. But why? A terrific new book explains our strange narrative compulsion. It's called The Storytelling Animal. (Buy it at Amazon, BN.com, or IndieBound.) And it's a page-turner itself. In fewer than 300 pages, Jonathan Gottschall traces the cultural and scientific connections between story and the human brain, touching on nearly every facet of society long the way. (You can get a sneak preview in his excellent 80-second trailer.)
My interest in the power of story goes back a long way, so of course I had a few questions for Jonathan about what he's learned on the subject:
You make a very convincing case about our species-wide addiction to stories.  And yet so much of the time we spend immersed in story, whether reading novels, watching movies and TV, playing video games, or daydreaming, is characterized as "escapism" or "wasting valuable time." Can you explain this paradox?
We love stories. We are enormously fascinated by the fake struggles of fake people.  But the love is mixed with a little Puritanism: If it feels so good, it can't be entirely good for us.  So, for centuries we've worried not only that stories waste our time but, worse, that they promote laziness and moral corruption. I think this worry is misplaced.  My book argues that stories—from conventional fiction to daydreams—are an essential and wholesome nutrient for the human imagination. Stories help us rehearse for the big dilemmas of life, bring order to the chaos of experience, and help unite communities around common values. We shouldn't feel guilty about our time in storyland.
As you say in your book, storytelling permeates the business world — a sales pitch is a very short story, a presentation is a longer one, and of course we tell motivating stories to each other all the time in the workplace. Do you think this has always been so? Have business and commerce always been so storyfied? Is it changing?
There are two basic models of human nature in the business world. The Homo sapiens model assumes that it's human sapience—wisdom, intelligence—that really sets our species apart. Based on this model, the best way to achieve business goals is to crunch numbers, lay out facts, and wait for rational actors to flock to your point of view.  This is the traditional model. But a new model of human nature is emerging to complement—not replace—the traditional model.  This is what I call the Homo fictus (fiction man) model of human nature. This model acknowledges that humans are creatures of emotion as much as logic, and that facts and arguments move us most when they are embedded in good stories.  The world's priests, politicians, and teachers have always known this by instinct, and so have the world's marketers. What's different now is a move to take storytelling beyond marketing and into all sectors of the business world that involve communication and persuasion.  Storytelling is increasingly seen as an essential business skill.
That makes sense. In fact, you refer to commercials as "half-minute short stories," and offer the Jack Link's Beef Jerky ads as an example: "[They] say nothing about the product, by the way. They just tell stories about beef-jerky-loving guys who foolishly harass an innocent Sasquatch and earn a violent comeuppance." Nothing about the product? How does that work?
Imagine you are a beef jerky marketer trying to take your relatively obscure brand to the top.  What can you say about your product to set it apart from other brands of dried, salted beef?  You could claim that your jerky is very tasty or healthy, but that will excite no one. So Jack Link's just decided to tell the coolest and funniest stories they could, with the jerky appearing in the stories only as product placement—in exactly the same way that a Coke can might show up in a sitcom. This attempt to create a positive emotional connection with consumers worked big time. People liked the commercials so much that they went out of their way to watch them many millions of times on YouTube and to pass them around on their social networks.  As a result, Jack Link's is now a brand that most of know and think about positively.

What is one thing readers of this blog could do — today — to put what you've learned about the power of stories into action in their lives?
I'd like readers to take a moment (go ahead, do it right now) to marvel with me about the role of story in human life—from dreams, to reality shows, to urban legends, to religion, to pop songs, to the life stories that define our personal identities. For humans, story is like gravity—it's this powerful and all-encompassing force that we hardly even notice because we are so used to it. But gravity is influencing us all the time, and story is too.  Most of us think that our time in the provinces of storyland doesn't shape or change us.  But research shows that story shapes humanity at the historical, cultural, and personal levels. Story isn't a frill in human life—something we do just for kicks. Story is a vastly powerful tool. By educating ourselves about story, we can use to learn that power in our own lives.
---