Genius vs. Talent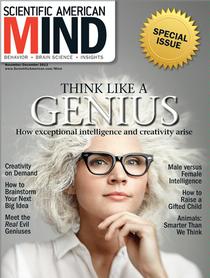 The latest issue of Scientific American Mind, which I read during a vacation last week (yes, I'm an exciting guy), takes on the subject of genius.
"Genius" is one of those freighted words, something we consider exceedingly rare and overwhelming innate. But after reading SciAm's package of articles, one of my takeaways is that genius in a less grandiose sense is as much about mindset as it is about ability or talent or gifts.
Two quotations in the stories stuck with me. The first comes from Mihaly Csikszentmilhalyi, who wrote:
"The unifying similarity among geniuses and innovators is not cognitive or affective but motivational.  What is common among them is the unwillingness or inability to strive for goals everyone else accepts."
The other is from Arthur Schopenhauer:
"Talent hits a target no one else can hit; genius hits a target no one else can see."
Worth pondering.
---