Introducing . . . Drive Workshops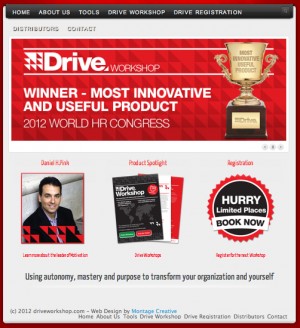 After more than a year of planning, I'm proud to announce that we've just begun rolling out a series of workshops built on the ideas in Drive and geared to help organizations put those ideas into action.
Check out the new Drive workshop web site for more details. As you'll see, we've begun in earnest in Australia, where we've received a great response (as well as a prize for the most innovative HR product.)
Our first foray into the U.S. will be next month (December 4 and 5), when we'll be holding an intimate workshop and train-the-trainer session in Washington, DC. People who complete this training will be licensed to deliver the workshop — and the only people eligible to deliver it — anywhere in America. It's a great opportunity for free agent training and development consultants as well as for companies that want to equip their internal trainers with smart, practical ideas for boosting engagement.
Again, check out the site or this PDF brochure. And if you've got any additional questions, just email Andrew Greatrex, one of the entrepreneurial forces behind the venture.
---