Office Hours is back — and it's sticky!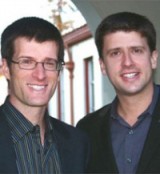 Office Hours — our super-cool, call-in, radio-ish program — has been on hiatus for a few months. But we're coming back with a great show to kick off our 2013 season.
On Friday April 12, 2013 at 2:30pm EDT, I'll be talking with Chip Heath and Dan Heath, authors of blockbuster books, Made to Stick, Switch, and their newest bestseller, Decisive, which is all about how to make better decisions. You can listen live — and ask the Heath brothers anything you want — by dialing this number (206-402-0100) and entering this passcode (203373#).
If you're new to the Pink Blog and don't know what Office Hours is, here's a quick reminder: About once a month, I've been opening the phone lines and a special guest and I take your questions about work, business, technology, personal productivity, and anything else you want to discuss. Think of it as "Car Talk" . . . for the human engine. The program is free of charge and free of advertising. You can find more information on the Office Hours page and download previous episodes on iTunes. (This episode, too, will be posted on iTunes next week.)
The deets:
Office Hours with Chip Heath and Dan Heath
April 12, 2:30pm EDT
Phone number: 206-402-0100
Passcode: 203373
---