Where are the dang outlets?
That's the question that power-mad (in the electrical sense) travelers ask when they arrive at an airport with their phones and laptops screaming "battery low."
The search can quickly lead an upstanding citizen down the low road. I'll cop to: scouring every baseboard in a terminal in a mouse-like quest for a power hole; pinching the outlets behind the United check-in desks when nobody is looking; sitting on the floor, Buddha-style, in the middle of a crowded gate so I can draw a few minutes of juice from one inconveniently located power source; and unplugging the electronic garbage receptacles in the Atlanta airport so I can, er, borrow the outlet for a few minutes.
But on a recent visit to Iowa, I discovered that officials at the Eastern Iowa Airport in Cedar Rapids have fashioned a slightly more civilized solution. Upholstered onto several of the chairs in the gate areas is a small symbol that indicates that an electrical outlet is within reach. If you need power, sit in one of those chairs. If you don't, sit somewhere else. It's akin to special seating for people with physical disabilities. Only this time, the seats are for those disabled by their anal-retentiveness. This might catch on.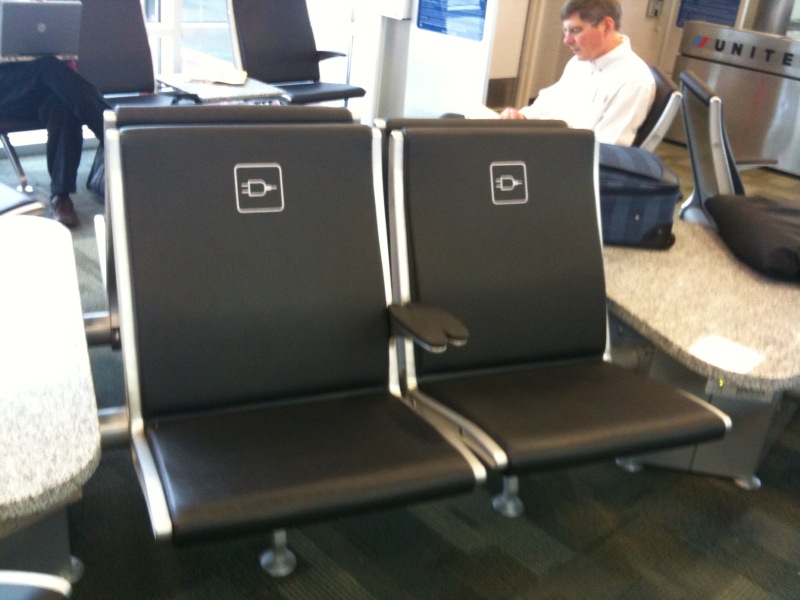 ---