Six word stories can say lots.
Sometimes when I go out and talk about the ideas in AWNM, I have time do some exercises with the audience.  And one of my new favorites is the six-word memoir,which helps demonstrate and hone the power of story. The idea comes from the endlessly entertaining book, Not Quite What I Was Planning
, in which people famous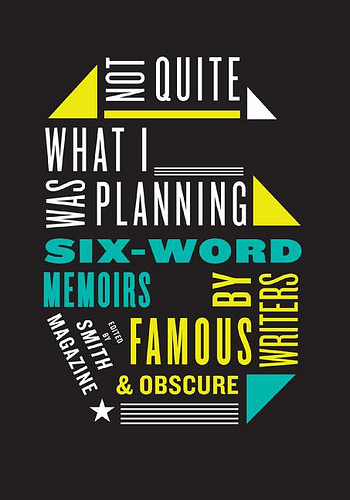 and not write their autobiographies in just six words.
For example, Stephen Colbert's six-word memoir is "Well, I thought it was funny." Another: "Found true love, married someone else."  There were several gems ones at the business conference I attended today.  Here are a few of my favorites (all penned by people who had about five minutes to think and write.) 
* Navy blue is my favorite color.  

* Did what I was supposed to.

* Happy, sad, angry, confident, really happy. 

* Unsure, but you would never know.
 
(UPDATE: We're now doing this over at JohnnyBunko.com, too.)
---