Emotionally intelligent . . . white lines?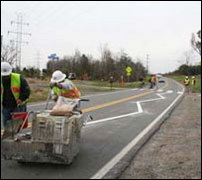 Forty-five minutes west of Pink, Inc, world headquarters — in the once bucolic, now (sorta) booming land of Loudon County — the Virginia Department of Transportation is rolling out a cool experiment.
Instead of painting perfectly straight white lines down the center of some roads, VDOT is using zig-zag lines. Huh? The crooked lines look a bit like the handiwork of an inebriated road crew, but they have a purpose.
As a VDOT spokesperson told WTOP.com,"It is a low cost strategy to get motorists to slow down as they approach the bike trail and pedestrian path. While at first motorists may be a little disoriented, the main point is to get them to pay attention and slow down through that area."
Interesting idea. It's like a two-dimensional speed bump. And if it works, I bet we'll be seeing more.

(HT: Chris Cavallerano)
---