Mine, all mine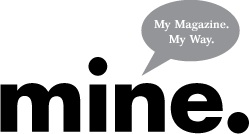 With magazines shrinking and newspapers disappearing, these are tough times for ink-stained wretches. So the folks at the beleaguered Time Inc magazine division have rolled out an intriguing experiment.
It's called MINE — and I just signed up for a free issue. Here's how it works:
First, I selected five Time, Inc. mags: Money, Time, Sports Illustrated, Real Simple, and Food & Wine. (As it happens, I subscribe to two of them already. Can you guess which? A free copy of Johnny Bunko to the first person to provide the correct answer in the Comments section. Update: We have a winner. You can stop guessing.)
Next, after entering my name and address, I answered four questions laced with Zen-like inscrutability. Did I crave pizza more than sushi — or the reverse? Did I sing in the car? Would I rather learn to juggle or impersonate celebrities? And would I prefer to have dinner with Leonardo da Vinci or Socrates?
Then, using this scant information, the good people of Time Inc will fashion a magazine exquisitely designed to my peculiar tastes, preferences, and demographics.I'll let you know when my MINE arrives. But I can already guess at least one cover line: 7 Simple Ways to Juggle Sushi Like DaVinci!
---