Emotionally intelligent signage on the road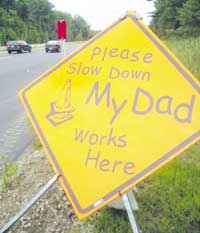 Carl Webber sends this terrific sign from Epping, New Hampshire and reported in the Manchester Union-Leader.
It's a classic example of emotionally intelligent signage: It aims to bring compliance with the rule (don't speed through construction sites) by encouraging empathy on the part of the sign viewer. Added bonus: Some of these signs replace "Dad" with "Mom."
Meantime, over at his always interesting site, Tom Vanderbilt, author of Traffic, has an fascinating post about — get this — emotionally intelligent bollards.
---