Are you ready to, uh, Drive?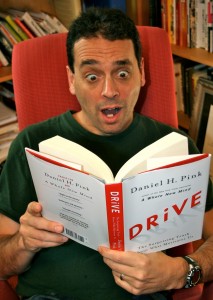 Truth be told, writing a book doesn't yield many moments of exhilaration. But for me at least, there's always one: When you see your baby for the very first time. That moment always makes me giddy. (And believe me: giddy is an instrument rarely heard in my emotional orchestra.)
So here, for your viewing pleasure, is the very first copy of Drive: The Surprising Truth About What Motivates Us to roll off the presses. As you see, the truth really is surprising.
If you're in the mood to be surprised yourself, go ahead and pre-order from this link or the ones to the right. You can also read what's on the flap here and see something of a sneak preview of the book's contents in this TED talk.
We'll be posting details of a month-long book tour and some other cool stuff in the coming weeks. But for now, thanks for indulging me this moment.
---