This one goes to eleven
In honor of last week's Ohio State  – Michigan game (You can take the boy out of the midwest, but you can't take the midwest out of the boy. — Ed.), here's one of my favorite examples of negative space.
The backstory:
In the early years of last century, when football helmets were like gloves for the head, ten midwestern universities got together to form an athletic conference. They called it the Big Ten — and the conference became an athletic powerhouse and one of the marquee brands in American sport.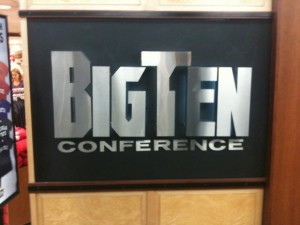 In 1990, the ten schools decided to add Penn State University to the conference — which they eventually realized created a conundrum: The Big Ten now had eleven teams.  (I hear it was the Northwestern rep who figured out the math. — Ed.)
I suppose they thought about renaming the conference the Big Eleven. But since that sounds like a convenience store, they devised a more ingenious solution: Keep the name, which is iconic, but include the idea of "11" in the logo.  You can see the result in the above photograph, which I snapped last month at the Big Ten store in the Columbus airport.
---