Dennis Brutus (1924 – 2009)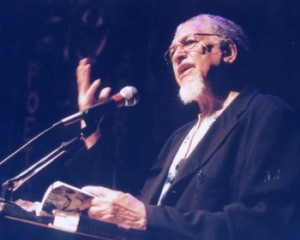 About a quarter of a century ago — when I was a young, impressionable Northwestern student wondering what I wanted to do with my life — I signed up for an upper-level seminar called "Writing Poetry."
It turned out that I was somewhat adept at deconstructing poems — and just plain awful at writing them. The person who helped me figure that out, and who gently urged me to apply what I'd learned in class to endeavors outside of poetry, was my professor — an extraordinary poet named Dennis Brutus. He died today at the age of 85.
Brutus cut an imposing figure in the seminar room. He had a rich voice, a sprawling beard, and a thick mane of hair. But what gave him a stature that I'd never encountered, as well as a certain ethereal quality, was his story. He had come to the U.S. as a political refugee after having been one of South Africa's leading anti-apartheid activists. He pioneered the idea of using sports as political lever to persuade the all-white government. And for his writing and rabble-rousing, he spent a couple of years at Robben Island with Nelson Mandela.
One of Brutus's poems, "Somehow We Survive," is among the few poems that remain stuck in my head after all these years. I offer this long snippet in his memory.
Somehow we survive
and tenderness, frustrated, does not wither.
Investigating searchlights rake
our naked unprotected contours. . . .
boots club the peeling door.
But somehow we survive
severance, deprivation, loss.
Patrols uncoil along the asphalt dark
hissing their menace to our lives,
most cruel, all our land is scarred with terror,
rendered unlovely and unlovable;
sundered are we and all our passionate surrender
but somehow tenderness survives.
---