Some Drive time on NPR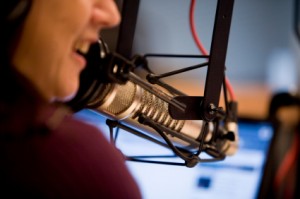 The way ideas spread is pretty simple: Conversation by conversation. One engaged person talks with another engaged person — and out of that daisy chain of human interactions come new ways to navigate our lives.
One of the best and most enduring forums for conversation is public radio. And in the past week, I've had the good fortune to talk about the ideas in Drive with several National Public Radio journalists. Here's a sampler:
1. Morning Edition. A talk with Madeline Brand.
2. Talk of the Nation. Host Neal Conan invited listeners to tell their stories about motivation at work — which brought forth examples of the very good and the very bad.
3. Local programs. Some of the best journalism in this country goes on at the local level. Visiting with hosts like Washington's Kojo Nnamdi, Philadelphia's Marty Moss-Coane, Dallas's Krys Boyd, and the Twin Cities' Kerri Miller, I learned a lot about both the possibilities and limits of these ideas.
If, er, you'd like to join the conversation, please do — here, on your favorite radio program, or over coffee with your spouse, partner, friend, or colleague. And don't forget about conversing with yours truly. You know where to find me.
---