There's an app for, uh, anything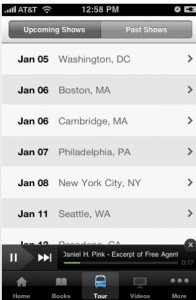 Okay. I've done it. I've created my own iPhone app. With the help of the amazing folks at Mobile Roadie, we've launched the official (sic) Daniel Pink app. You can download it — it's free! — from iTunes.
What's cool about apps in general, and this one in particular, is that they feel like web sites circa. 1995. Everyone's going to need one, but we're still frobbing around, trying to figure out how to make them maximally useful and effective. On that, I welcome — actually, I crave — your feedback. We'll do an updated version soon — informed, I hope, by your suggestions.
---