Do commissions motivate or demotivate salespeople?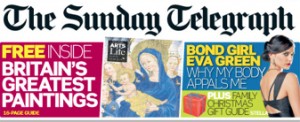 That's the question I examine in my new monthly business column for the Sunday Telegraph of London, which debuts today.
In the piece, which takes about four minutes to read, I describe the experiences of two companies — Red Gate Software in Cambridge, UK and System Source in Baltimore — that have eliminated commissions for their sales force . . . and seen sales increase.
It's a bit weird. But once you understand the logic of these companies' founders, it actually makes a lot of sense.
---