Solving your personal energy crisis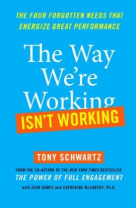 For all the talk we hear about "work-life balance," it sure doesn't feel like life is getting any easier or work less stressful.
Tony Schwartz's new book, The Way We're Working Isn't Working, looks at the four basic needs all human beings share once the bare necessities of survival have been met: the need for physical well-being, emotional stability, self-expression, and meaning and significance. When these needs go unmet, the result is stress, a bigger waistline, and a lot less satisfaction.
A lot of what Tony is saying will sound familiar at first — who hasn't heard that they need to exercise more, watch less TV, and spend more time with their family? The difference here is that The Way We're Working Isn't Working recognizes that all the good intentions in the world will accomplish exactly nothing. Every chapter leaves you with practical action steps for diagnosing where you might be falling short and rectifying the lack of balance in your life.
Here's your first action step: Click over to The Energy Project and take an Energy Audit to find out what's working for you, what isn't, and where to go from there. (Note: Getting your results requires giving your email address.)
---