Another book recommendation: The Mesh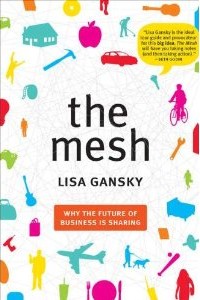 We all know it's better to own than to rent, better to have than to borrow. But what if there's a wiser way — one that takes advantage of the 21st century's exploding opportunities for tapping information networks and connecting with others?
Lisa Gansky's The Mesh: Why the Future of Business is Sharing describes an emerging ecosystem of people and businesses who are sharing, swapping, and trying without buying everything from automobiles to Zinfandel. Gansky outlines several factors — including economic and environmental pressures, urban growth, and distrust of the old corporate style of doing things — that have contributed to the rise of the Mesh economy and will keep it on a glide path.
The Mesh is Netflix, with its individualized movie recommendations and instant streaming video. It's Zipcar, whose motto is "Car rental is so last century." It's ThredUp, a way for parents to swap barely used,  stylish kids' clothing with families across the street or around the country. For more examples, check out the links below. Then pick up your copy of The Mesh and get connected. (Buy it at Amazon, BN.com, Borders, or 8CR).
---