Are you a good boss or a bad boss?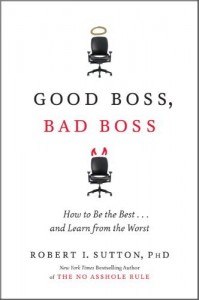 Even though I've worked for myself for 13 years, I've had plenty of bosses in my life. Only two were awful (and you know who you are.) Most were generally fine. But none was truly amazing.
In my younger days, I suspected that this rampant okay-ness was because these folks had no idea how to be a good boss. But now that I've matured, explored the world, and begun to understand the subtleties of organizational dynamics and human interaction, I'm certain it was because these folks had no idea how to be a good boss. Most people don't.
Three cheers, then, for Bob Sutton's new book Good Boss, Bad Boss: How to Be the Best… and Learn from the Worst.
 It's a followup to his brilliant No A**hole Rule — and it's easily as good, if not better. Sutton uses stories from the front lines and a piles of social science research to figure why some bosses soar and others stink.
The core point, at least as I read it, is that good bosses are adept at working both sides of the street. They improve people's performance and they deepen their humanity.
As Sutton says, good bosses "do everything possible to help people do great work," yet they also "do everything possible to help people experience dignity and pride."
I was so intrigued by this book that I asked Bob to answer some questions for Pink Blog readers.  Alas, my questions were so numerous and Bob's answers so rich that I had to post the exchange on a separate page. You can read the full interview here. Once you get a taste, you'll want to pick up your very own copy of the book.  (Buy it at Amazon,
BN.com, Borders, IndieBound, or 8CR).
---