Idea of the day: A Taxpayer Receipt
Every once in awhile, you hear of an idea so blindingly obvious and inarguably wise that you wonder why in God's name it's still a notion and not a reality.
That happened to me this morning when I heard about the Taxpayer Receipt, the brainchild of the folks at Third Way.
In a brief and readable policy paper, David Kendall and Jim Kessler propose "providing each taxpayer with a receipt that shows them exactly how their money is spent to the penny."  That's it.
Here's what the receipt would look like: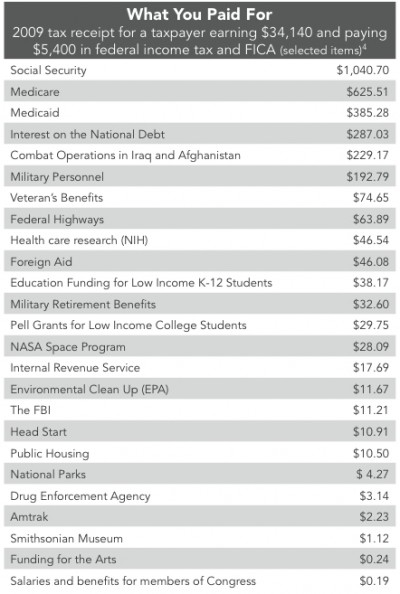 The goal is to keep Americans informed about where their tax money really goes and to force citizens to confront the hard choices we'll have to make to do something about our staggering and endless budget deficits. It also offers an antidote to the budget blather on both the right (e.g. Republicans who claim they can balance the budget by snuffing out waste, fraud, and abuse without touching Social Security, Medicare, or defense) and on the left (e.g. Democrats who think that boosting taxes on a small slice of the population will do anything to raise the money needed to finance our spending.)
Okay, somebody give me one good reason why we're not doing this.
(Note: In an earlier version of this post, I included the wrong receipt — one that misstated the amount of money going to national parks. Sorry for my mistake.)
---