Three ways to spread your idea and boost your satisfaction before the year ends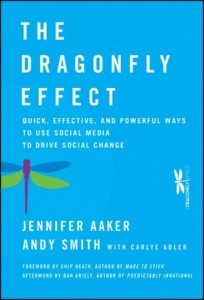 One of my favorite business books of the year is The Dragonfly Effect: Quick, Effective Ways to Use Social Media to Drive Social Change by Jennifer Aaker and Andy Smith. (She's a Stanford B-School professor, he's an economist and marketing guru.)
Although shelves groan with books about the mechanics of Twitter, YouTube, and Facebook, The Dragonfly Effect takes an approach that is at once smarter and more practical. Aaker and Smith examine the science underlying social media and behavioral change. Then they use that foundation to recommend techniques not simply to collect more followers or boost your search engine standing, but to achieve a single, concrete goal — such as finding a bone marrow match, raising money for a cause, or electing a candidate.
With 2010 winding down, I asked Aaker and Smith if they'd answer a question for Pink Blog readers:
"What are three ways people can use the remaining six weeks of the year to both spread their idea and boost their satisfaction?"
Their terrific response is here on a separate page. As you'll see, the advice is savvy, sensible, and surprising. Once you've read their guidance, you'll want to pick up the book at Amazon, BN.com, IndieBound, Borders, or 8CR.
---