Who else wants to contribute to the paperback edition of Drive?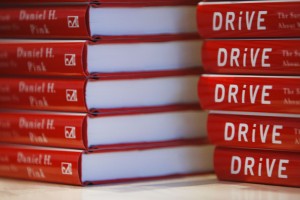 In recent weeks, I've begun working on the paperback edition of Drive. This new edition of the book, slated for release in about six months, will include up-to-the-minute studies, fresh examples, and lots more tools, tips, and exercises. But to make it even more valuable for readers, I'd love to get your input.
Here's a very short survey that asks the three questions:
How have you used the ideas in Drive?
What topic would you like me to expand on further?
What is one tool, tip, exercise, best practice, or reading that's not currently in the book that you think is worth including in the paperback edition?
If you have two minutes, please share your thoughts on any or all of these questions.
At the bottom of the survey, you'll also see a field for your name and email address. You don't have to fill those out if you don't feel like it. But if you do, as a small thank-you for your feedback, I'll mention you on the Acknowledgements page of the paperback. (We need your email address in order to verify your name, but we won't use it for any other purpose.)
Just click here to fill out the survey.
---