3 resolutions for making 2011 practically radical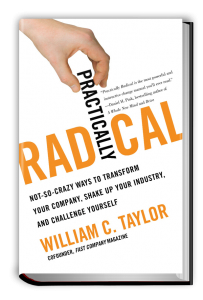 Still haven't gotten around to making your new year's resolutions?  The Pink Blog is here to help.
I asked my friend, Fast Company co-founder Bill Taylor, to do the work for us — and offer up a few resolutions to help us work better and innovate faster in 2011.
The three suggestions listed below come from Bill's smart and energetic new book, Practically Radical: Not-so-crazy Ways to Transform Your Company, Shake Up Your Industry, and Challenge Yourself, which debuts today. (Buy it at Amazon, Barnes & Noble, Borders, 8CR, or Indie Bound).
So steal Bill's resolutions. Then pick up a copy of Practically Radical for yourself for even more wisdom.
***
"1. I resolve to help my organization (and me personally) become "the most of something" in my field. It's not good enough to be "pretty good" at everything. The most successful organizations (and people) are the most of something—the most elite, the most affordable, the most elaborate, the most approachable.  For so long, companies were content operating in the middle of the road. Today, with so much change, so much pressure, so many new ways to do everything, the middle of the road has become the road to nowhere. What are you the most of?
2. I resolve to embrace a sense of vuja dé. We've all experienced déjà vu—looking at an unfamiliar situation and feeling like you've seen it before. Vuja dé is the flip side of that—looking at a familiar situation (an industry you've worked in for decades, problems you've worked on for years) as if you've never seen it before, and, with that fresh line of sight, developing a distinctive point of view on the future. The challenge for all of us is that too often, we let what we know limit what we can imagine. This is the year to face that challenge head-on.
3. I resolve to look for new ideas in new places. The more I study innovation, the less enamored I become of "benchmarking" the competition. What good is it to compare yourself against "best practice" in your field, especially if "best practice" isn't that great to begin with? The most creative leaders aspire to learn from people and organizations far outside their field as a way to shake things up and make real change. Strategies and practices that are routine in one industry can be revolutionary when they migrate to another field. Do you have new ideas about where to look for new ideas?"
---