3 ways to boost your curiosity and refresh your outlook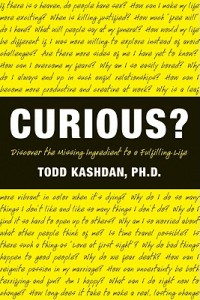 This is the time of year when the temptation to hibernate — physically and mentally — can hit hard. It's so much easier to stick with familiar and comforting routines, to trundle along in the same old rut.
I asked clinical psychologist and George Mason University scholar Todd Kashdan — author of Curious? Discover the Missing Ingredient to a Fulfilling Life (Buy it at Amazon, Barnes & Noble, Borders, or Indie Bound) — if he'd share some tips for how to refresh our personal and professional outlook.
Here's Todd's advice, based on some of the research he's done in his lab:
"1. Thrive on uncertainty. We rarely look forward to the tension that accompanies uncertainty, but research shows that these feelings lead to the most intense and longest-lasting positive experiences. New and uncertain activities make people happier and create more meaning than familiar routines.  Re-train your brain to benefit from the pleasures of surprise and uncertainty. And do the same for people around you. For instance, every week, give a free lunch away to someone who best embodies a strength valued by the business (Compassion? Leadership? Gratitude? Humor?). Let the person who wins pick a lunchmate whom they don't know as well as they should. Use the pleasures of uncertainty to build satisfaction and commitment inside your organization.
"2. Find the unfamiliar in the familiar. As soon as we think we're experts, we stop paying attention and start falling back on scripts, labels, and categories. That's especially true in the workplace. Yet scientists have discovered the value of attending to what we don't know about people and how they differ from us — instead of relying on what we already know and how they are similar to us. Encourage your team to make this mindset switch. You'll develop stronger bonds, squelch prejudice, and help your star players avoid being blinded by their expertise. For instance, when you go out to lunch with colleagues, ask them about something that interests you but that you never talk about. What are their top 5 places to travel to in the world, and why? What movies do they like but are often embarrassed to share? And don't always spend your time with people you know. Seek out strangers at work who intrigue you, who are different from you, and who expand your horizons.
"3. Be a safe haven for the risks and joys of others. To take risks and experiment with new ways of thinking and acting, we need to feel secure.  If you want workers to be creative, be responsive when they share past explorations or future plans. If they feel uncomfortable, let them know that anxiety is natural when trying new things. Share a story of how the last time you felt anxiety and self-doubt. You might be surprised how comfortable it will make them to take on tough challenges. And respond genuinely when they share what is intriguing and going right in their lives. Don't just ask, "How was your weekend?" Ask them what their peak moments were on Saturday and Sunday. And when they share, follow-up with questions, ask for details. You might become genuinely interested in their interests and create a safe haven for the sorts of breakthrough thinking that changes companies — and sometimes the world."
---