Emotionally intelligent signage on a box
Devotees of emotionally intelligent signage (yes, both of you) will recall that the original definition of the term hinged largely on empathy. Emotionally intelligent signs were those that either:
a) empathize with the viewer and thereby improve the experience of a space (Example: A sign in a seemingly crowded museum cafeteria that reads, "Don't worry. This line moves quickly."); or
b) encourage empathy on the part of the viewer in order to gain compliance with a rule. (Ex: The sign at the Vietnam Veterans Memorial that reads, "Honor those served. Please stay off the grass.")
But can signage and other graphics nudge us to empathize not just with our fellow human beings, but also with inanimate objects?
Perhaps. Check out this photo from Todd Boudreaux. Do you think people are more likely to handle this box properly than one with, say, a notice reading "This Side Up"?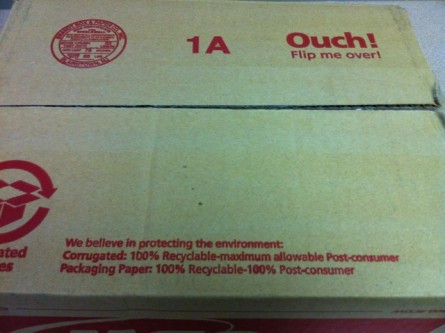 ---