The future of education . . . 100 years ago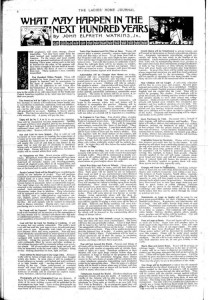 The intrepid Maria Popova — BTW, if you're not subscribing to her newsletter or following her on Twitter, you should — points to a really interesting item in How to Be a Retronaut.
The Retronaut blog, which collects artifacts from the past to help us understand the present, unearthed an article from Ladies Home Journal circa. 1900, headlined, "What May Happen in the Next Hundred Years." Its author, one John Elfreth Watkins, Jr., lays out his predictions for the American life in the early 21st century.
Among his calls: Americans will be taller. (True) There will be no C, X, or Q in the alphabet. (False) Photographs will be telegraphed from large distances. (True) Rats and mice will be gone. (False). Pneumatic tubes, instead of store wagons, will deliver packages and bundles. (False, but Amazon is working on it.)
But somehow I found his predictions for "How Children Will Be Taught" most compelling. Here's what he says:
A university education will be free to every man and woman. Several great national universities will have been established. Children will study a simple English grammar adapted to simplified English, and not copied after the Latin. Time will be saved by grouping like studies. Poor students will be given free board, free clothing and free books if ambitious and actually unable to meet their school and college expenses. Medical inspectors regularly visiting the public schools will furnish poor children with free eyeglasses, free dentistry, and free medical attention of every kind. The very poor will, when necessary, get free rides to and from school and free lunches between sessions. In vacation time, poor children will be taken on trips to various parts of the world. Etiquette and housekeeping will be important studies in the public schools.
Your thoughts?
---