Take a trip to the Idea Store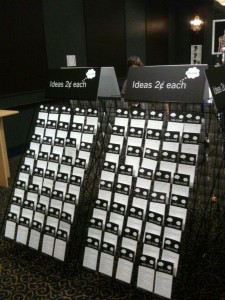 A few weeks ago, Mrs. PinkBlog and I hopped into the family Toyota and drove to southwest Washington, DC, for the (e)merge art fair – a sprawling assemblage of creations from up-and-coming painters, sculptors, photographers, and performers. We saw some interesting stuff (and a lot of total dreck), but one of the most arresting pieces was the kind of art you can't exactly hang on your rec room wall.
On the first floor of the fair, Athena Robles and Anna Stein, two Brooklyn artists, set up an installation called The Idea Store.
The premise was simple. People who visited a makeshift storefront – think Lucy Van Pelt's psychiatrist office – could fill out a card offering an idea and get paid a penny for it. Robles and Stein then placed the card on the kind of rack you might find at a Hallmark store. Then other visitors could select an idea from the rack and purchase it for two cents.
Some of the ideas on offer were silly. Others were thumbsuckingly obscure. But many were sublime.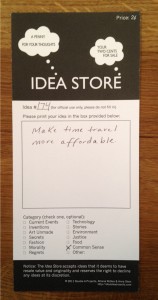 Over to the right is an idea that I bought with two pennies I dug out of my pocket. (You might need to click the photo to actually read the card.)
Yet the best idea of all may have been the notion of the store itself. It evoked all sorts of associations – the marketplace of ideas, contributing your two cents worth, and so on. And it raised lots of interesting questions: Why is one idea "worth" more than another? Why are some ideas easier to "sell"? Is it possible really to "own" an idea?  And, of course, why does this topic make me use so many quotation marks?
Although The Idea Store was formulated as a piece of art, I think that with a few tweaks it could work well in other settings for other purposes.
Maybe something like an Idea Store could be a feature of your organization's next offsite or your association's next conference. Maybe you could set one up in the student union or school cafeteria. Maybe having one in your office lobby could generate suggestions and trigger conversations.
Give it some thought. This might be an Idea Store whose time has come.
---