The power of an hourly beep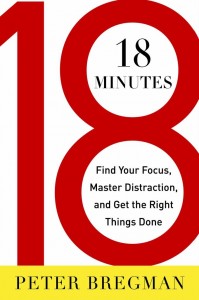 Peter Bregman is a strategy consultant who advises some of North America's top CEO's and writes widely-read blog for the Harvard Business Review.
Last month he published his second book, 18 Minutes: Find Your Focus, Master Distraction, and Get the Right Things Done, which is packed with smart, practical advice for boosting individual performance. (Buy it at Amazon, BN.com, Indie Bound, or 8CR.)
Because I thought PinkBlog readers would dig what he had to say, I asked him to share a tip from the book — something quick and actionable that could help us on a Monday morning.
Here's Peter:
I start every day with a plan. Each morning I look at my to do list and ask myself  'what will make this a successful day? Then I transfer the right tasks from my list onto my calendar and get to work.
But it's rare that I stick to every minute of my plan. Emails come in, phones ring, texts beep, and my own penchant for distraction sneaks up on me. It doesn't take me long to wander off from my schedule. And sometimes, like in a recent angry exchange with my phone company representative, I'll wander off from myself too.
It used to be that I'd end each day disappointed, wondering why it wasn't the success I had envisioned.
But that changed when I started setting hourly beeps.
Each hour when my watch, computer, or phone beeps, I stop whatever I'm doing, take a deep breath, and ask myself two questions:
1. Am I doing what I most need to be doing right now?
2. Am I being who I most want to be right now?
At first it seemed counterintuitive to interrupt myself each hour. Aren't interruptions precisely what we're trying to avoid? But these one-minute-an-hour interruptions are productive interruptions. They bring us back to doing what, and being who, will make this a successful day.
This isn't all about staying on plan. Sometimes the beep will ring and I'll realize that, while I've strayed from my calendar, whatever it is I'm working on is what I most need to be doing. In those situations I simply shift items on my calendar so my most important priorities still get done and I make intentional choices about what I will leave undone.
For me, a once-an-hour reminder, one deep breath, and a couple of questions, has made the difference between ending my day frustrated and ending it fulfilled.
---