Call my cell
On Saturday night, Mrs. PinkBlog and I — along with two-thirds of our progeny — decided to go out for pizza. We chose a place about three miles from our house called Il Canale, which a friend (an Italian journalist posted in the States) had raved about.
I wasn't sure what to expect. But moments after walking in, I saw this sign, featuring the smiling face of owner Giuseppe Farruggio: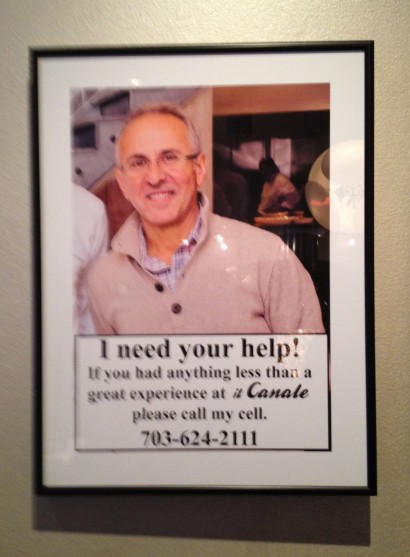 As it turned out, the restaurant was outstanding and we had no need to call Signore Farruggio. But his offer left me wondering.
Why doesn't Jeff Smisek give out his phone number on those videos that United Airlines plays before each flight? Or Patrick Donahoe on a placard in every American post office? Or the manager of your local grocery store on its shopping carts? Or, uh, authors on their book jackets?
It's easy to proclaim, "I'm accountable." It's tougher to say, "Call my cell."
---