5 cool holiday gifts for $25 or less
I'm terrible at picking gifts for people. So when I find presents that work, I never let go. Here are five terrific items — all costing no more than $25 and all available online.
1. ARTIFICIAL TURF COASTERS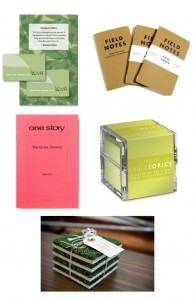 For the baseball fan in your life, get these four drink coasters fashioned from artificial turf. Trust me. Every guest to our house wants to know where we found these things. ($12.95 from Bergino Baseball Clubhouse.)
2. FIELD NOTES
These are my favorite pocket notebooks — by far. I can't live without them. Lots of groovy designs.  And for the nerd in your life, you can even choose graph paper pages. ($9.95 for a three-pack from Field Notes.)
3. A KIVA CARD
Transform your friend or relative from an ordinary schmoe into an international microlender with a gift card from Kiva. The recipient can lend the money you give to a small entrepreneur in the developing world. ($25 from Kiva.)
4. ONE STORY
A literary magazine with a twist. Every three weeks or so, One Story sends you — wait for it — one short story published in an elegant, pocket-sized format. Great reading for airport security lines. ($21 for a year's subscription from One Story.)
5. TABLE TOPICS
This is one of those products I wish I'd thought of. It's a cube containing 135 cards, each with a question meant to spark a conversation. I'm partial to the family set — a fixture at the Pink dinner table — but other varieties are also cool. ($25 from many retailers.)
*****
BTW, if you'd been a subscriber to our irregular, irreverent (and free!) email newsletter, you'd have heard about this list much sooner.
---