10 predictions for 2012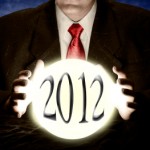 The other day, I retrieved my crystal ball from the Pink family self-storage unit. Here's what I glimpsed through the haze about the coming year.
1. American Politics. In the 2012 presidential race, one candidate will win the popular vote but the other the Electoral College.
2. Economics, I. On Election Day 2012, the US employment rate will be 8.1%. (Job growth will improve, but more discouraged workers will re-enter the labor force, pushing up the rate.)
3. Economics, II. In the 1970's and 1980's, America had U-shaped recoveries. In the 1990's, we had a "Goldilocks recovery" (not too hot, not too cold). What's happening now will be known as the "tortoise recovery" — heading in the right direction, but moving very, very slowly.
4. Business, I. A year from today, two out of these three entities will no longer exist: Groupon, Kodak, Newsweek.
5. Business, II. The hot new investment area for venture capitalists will be synthetic biology.
6. Technology. The year's must-have technology product won't be the iPad 3 or iPhone 5, but the Lytro camera.
7. International affairs, I. The next big popular uprising — 2012's version of Arab Spring — will take place in China.
8. International affairs, II. The Cameron-Clegg coalition government in the UK will not survive through November.
9. Culture. The year's big novel will be Billy Lynn's Long Halftime Walk by Ben Fountain. (I read the manuscript last week. It's amazing — Tom Wolfe meets Joseph Heller.)
10. Sports. The Washington Nationals will make the 2012 National League playoffs. You heard it here first.
Got a prediction of your own? Add it in the comments and I'll Tweet out the most interesting ones over the next few days.
---