3 equations that can change your life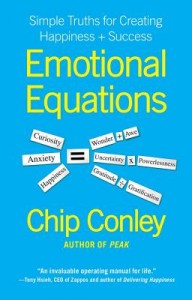 Chip Conley is a rare bird. He's a successful entrepreneur, a provocative thinker, and — get this — a nice guy. Today, he's out with his newest book, Emotional Equations: Simple Truths for Creating Happiness + Success, and it's a gem. (Buy it at Amazon
BN.com, or IndieBound.)
In the book, Chip uses the grammar and lexicon of arithmetic to some deeper truths about life. (Ex: Joy = Love – Fear.) Much like math itself, the technique is simple and elegant — so much so that I wanted to introduce it to Pink Blog readers.
In the short interview below, I ask Chip to explain three particularly intriguing emotional equations:
You define despair as suffering minus meaning (Despair = Suffering – Meaning). What does that mean?
Viktor Frankl's landmark book "Man's Search for Meaning" was my salvation 3-4 years ago when I was going through a depressing time. I turned that profound book into this equation so that it could serve as a daily reminder or mantra on a bad day. Suffering is basically a constant in life. If you're a Buddhist, that's the first Noble Truth, but it's just as relevant in a punishing recession and in many relationships. Meaning is the variable – it's what you make of it. The way this equation works, if you increase the meaning of something and suffering stays constant, then despair declines. For me, it meant I was asking "What's the lesson or learning in this?" Often, I had to think of life as sort of an emotional boot camp and that the way I created meaning from a challenging situation was to imagine what emotional muscles I was training – whether it's resiliency, humility, compassion, or courage – that could serve me later in life.
For Anxiety, you turn to multiplication. You say it's the product of Uncertainty and Powerlessness (Anxiety = Uncertainty x Powerlessness). Explain.
Experts in Anxiety distill the ingredients down to two primary elements: what we don't know and what we can't control. I created an Anxiety Balance Sheet to assist with alleviating this debilitating emotion. Imagine something that's making you feel anxious. Then, pull out a piece of paper and create four columns with the first one being "what I do know" about this issue that's creating anxiety. The second column would be "what I don't know" (these first two columns cover the "Uncertainty" part of the equation). The third column is "what I can influence" and the fourth is "what I can't influence." Take ten minutes to list as many items under each column as possible. What I've found is that most people are surprised when they have more items under the "good" columns (1 and 3) than they have under the "bad" (2 and 4). Additionally, you can look at what's in column 2 (what you don't know) and ask how could I learn more. In fact, if you're worried you may lose your job, the answer may be to ask your boss if your job is in jeopardy. And, I've also seen people move items from column 4 to 3 by asking themselves, "How can I create some influence on this issue even though I'm not feeling it right now?" Just the act of getting logical and proactive about anxiety helps to loosen its grip on you.
Does that mean if we declare that we will never be powerless — that is, if we reduce the Powerlessness component to zero — we'll be anxiety-free?
Provocative question. You may have heard about a social science experiment in which research subjects were given the choice of either receiving a very painful electric shock now or receiving half as painful of a shock sometime in the next 24 hours but at a time when they weren't expecting it. The majority of people chose to experience the extra pain now since mental pain can be more threatening than physical pain (note to leaders: better to deliver bad news as early as possible). In an updated version of this study, they gave people the ability to have a little more power over when the shock could occur – I think it was within a one hour window – and this led people to being more inclined to choose the pain later rather than the excessive pain now. In a multiplicative equation, if one of the two variables edges toward zero, it takes away the combustibility. So, if you tell yourself that you have huge job insecurity which is leading to uncertainty, but you are doing all kinds of prep work (job interviews, making connections on LinkedIn, saving some money) that give you more of a sense of power, then it's likely to lessen the feeling of anxiety.
Surprisingly, your equation for Happiness — which we often think of in terms of more — uses division. (Wanting What You Have / Having What You Want). How does that work?
I learned this one studying the Gross National Happiness index in Bhutan for a week three years ago. An alternative way of looking at this equation is Happiness = Practicing Gratitude / Pursuing Gratification. When you appreciate or want what you have, that's a form of practicing gratitude, something that is foundational for many devotional practices – like Buddhism in Bhutan. In the U.S., we are proud of our "pursuit of happiness" and the fact that it's even in our Declaration of Independence, but if you read some dictionary definitions of pursuit ("to chase with hostility"), you understand the risks associated in the denominator. Many of us pursue our goals or gratifications so aggressively that we end up on the hedonic treadmill constantly chasing the next shiny object or opportunity. When we're bottom-heavy in this equation and too focused on pursuit, we lose track of our quickest means of creating happiness: the practice of wanting what we have or gratitude. So, yes Dan, in some ways, happiness does have an editing function.
---