Tomorrow's classroom excuse: SOPA ate my homework
In case you haven't heard, several large websites have blacked themselves out today to protest two pieces of anti-piracy legislation now before the U.S. Congress.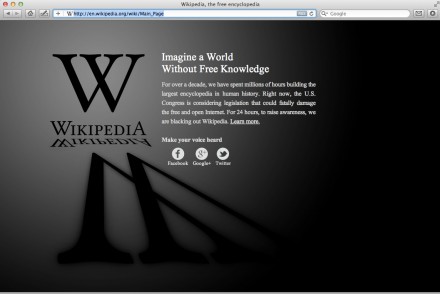 Leaving aside the merits of their arguments, which I think outweigh the merits of the legislation's advocates' arguments, I've got two questions.
1. Will Wikipedia's 24-hour disappearance have a material effect on anyone's life? (I'm talking about you, students and journalists.) If so, that's pretty amazing — given how preposterous the very concept of Wikipedia seemed not too long ago.
2. Will the web blackout become a prominent new form of social protest? As a long-time resident of America's capital city, I'm convinced that the "March on Washington" technique passed its sell-by date last century. If this is the replacement, or even a quasi-replacement, then we're watching history in action.
Maybe we'll know the answers tomorrow. At the very least, we'll be able to finally find out the capital of Slovakia.
---