Would getting rid of cash make our lives easier and better?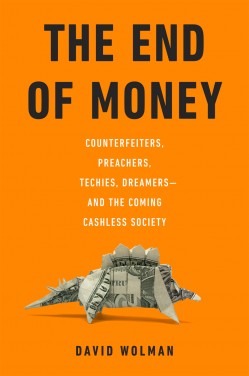 On Sunday night I did something that, when you stop and think about it for a moment, was weird.
Accompanied by SaulonSports, I drove to Ray's Hell Burger to pick up dinner for ourselves and our fellow Pinks. We asked for five burgers. And the folks behind the counter gave them to us in exchange for — get this — three pieces of paper.
Three pieces of paper!
Yes, they were two 20-dollar bills and one Hamilton. But still, we obtained something of value (including a B.I.G. Poppa!) by handing over a few strips of fiber that have no inherent worth.
In his new book, The End of Money: Counterfeiters, Preachers, Techies, Dreamers — and the Coming Cashless Society, David Wolman explores the conundrums and complexities of cash. (Buy the book at Amazon, BN.com, or IndieBound.)
He argues that bills and coins are inefficient and expensive — for example, a U.S. nickel costs 11.2 cents to make — and that we'd be better off without it. In fact, he tried to go a year without using any cash at all.
The book is fascinating — so much so that I asked David to answer some questions for Pink Blog readers.
You tried to avoid using physical money for an entire year. What changes in your daily habits or ways of thinking were you forced to make? And have you gone back to using coins and bills?
The biggest hangup for me–both during the cashless year and now–is tipping. While foregoing cash, I made sure, for example, never to get help from a curbside porter at an airport or bellhop at a hotels, no matter how heavy my suitcases. Now I've loosened up on that, especially during a recent family vacation, which included a duffle bag that I would swear was packed with silver bullion. I also steered clear of farmers markets; many of those vendors still only accept cash, although I think that's changing. I tell ya, I can't wait for the day when I can tip or buy some strawberries with an exchange as simple as a text message.
As some people know, I harbor a long-standing animus against pennies. You talk about this issue in your book – pennies are expensive to make, heavy to transport, and nearly useless as a medium of exchange. And still we can't get rid of them! If we can't even break our penny habit, how likely is it that we'll be able to shed our reliance on cash more broadly?

Cash's magic spell begins with the penny. You're right: if we can't even nuke the penny, doing away with cash sounds rather quixotic. And losing the penny is going to be especially hard during the term of a President from the Land of Lincoln. (You may have seen recently that the President wants the Treasury to look into making pennies out of cheaper materials, precisely because of this cost imbalance. Talk about an inability to see the forest through the trees.) All of that being said, I'm still hopeful that cash's death by 1,000 cuts is still on course, thanks to emerging technologies and alternative currency innovators. It's not so much that we will actively do away with pennies and cash in other denominations. It's that cash will get pushed so far to the margins that people won't want it anymore. Think of how little we use it already. Illicit transactions notwithstanding, when was the last time you or other PinkBlog readers used cash for any sizable purchase or payment?
What's the most surprising thing you learned about money – past, present, or future — while researching your book?
I was taken aback by how vehemently so many people oppose the idea of doing away with cash. For crooks, tax evaders, or individuals who want to buy porn in secret — I get it. What I'm talking about are people representing a broad spectrum of viewpoints, yet all converging on a defense of cash that is sometimes rational, other times not at all. ACLU types worry about threats to privacy resulting from an entirely digital money system; right-wingers ascribing to the get-government-off-my-guns-and-cash dogma obviously loathe the idea; and even everyday folks who just feel this kind of vague ambivalence about giving up on money in its tactile form. They know the paper and metal representations of US dollars aren't in and of themselves of worth. But they don't care. They still like them.
After reading the book, I'm convinced. Cash costs too much in terms of time, materials, security, transportation, you name it. Tell us what a future without money will look like, and what's one step a PinkBlog reader could take today to help make that future come true as quickly as possible?
The future holds a phantasmagoria of value options, with various currencies all exchangeable and trade-able in real time via your mobile phone. What can you do to nudge things along? Be like an airline! To avoid the high costs of cash, most major airlines have stopped accepting paper money for payment during flights. By doing so they have chipped away, ever so slightly, at the fungibility of cash. One of cash's historical — and, to a large extent, persisting — advantages is that it can be used across almost all uses because nearly everyone accepts it. But that doesn't have to be so. Look at how many restaurants and other businesses refuse to accept plastic because the proprietor doesn't like the fees. If refusing to accept cash strikes you as too extreme, or possibly too hazardous to your bottom line, consider encouraging other forms of payment by offering a discount, for instance, to people who pay with electronic funds, thereby helping you reduce the need for using–and paying to use–cash.
---