Do you have 4 minutes to help me learn what people do all day at work?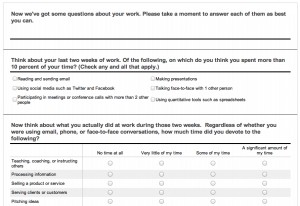 To write my previous books, I relied on tons of interviews, lots of traditional library and online research, and one kick-ass genie.
For the next book, I'm adding a new technique: Quantitative survey research. In an effort to add some statistical meat to the book's analytic bones, I've enlisted the wonderful folks at Qualtrics and devised a brief survey on people's work activities and attitudes.
Thanks to a bunch of tweets on Tuesday, several thousand people have already completed the survey. But because we're working hard to make sure we have a fully representative sample, and because the huge response has given us a chance to assemble even representative subgroups, we're looking for more participants.
If you're interested in adding your experiences and opinions to the new project, just go to this link. The survey begins with some demographic questions to ensure we have valid sample. Then it moves to a handful of questions about how you spend your time at work — and what you think of certain aspects of it.
People who've completed the survey have said they've enjoyed it. And, seriously, it takes just four minutes.
So if you've got 240 spare seconds, give it a try. It would be a huge help.
---